Urban Out'fitter
Where Retro and Modern Meet
Urban Outfitter is an American fashion, consists of retro, hipster, and modern styles. It is currently headquartered in Philadelphia, Pennsylvania. The brand has opened 238 stores worldwide, in which 179 of them are located in United States, 16 stores in Canada, and 43 stores in Europe. Aside from the main brand, Urband Outfitter also managed Anthropologie, Free People, BHLDN, and Terrain. Each of them has similar styles to each other but they have different target market. Urban Outfitter focuses on youth and young adult while Anthropologie is geared towards adult and working women. Free People has style that suits retro and hipster for young adult and BHLDN is mostly about household supplies, from sofa, cupboard, shelves, chairs, tables, and stationaries.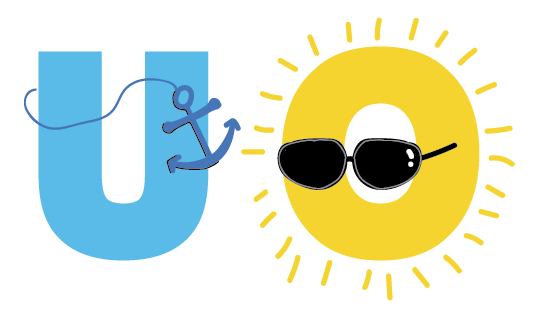 This UO logo was made in Art Illustrator. First, I created a new layer for text and typed U and O and I chose the yellow and light blue as the new color for the branding as both colors represent summer season. It was simple and nice but something was missing so I added some attributes to it, which is the anchor and the sunglasses, to give more summer feels in it. You can see that it totally shows summer is here and UO is also ready to release their summer collection online and in store. There will be a lot of bright colors in for the new season collection, including new accesories and home supplies.
I am a big fan of this brand as their products are always nice; I started to be their regular customer since 3 years ago when I first bought one of their jeans online and it was a really good purchase. Later, I started going to their store which was pretty close to my apartment at that time and I go there frequently to try their clothes and check out their photography collection. What surprised me the most was the fact that they also have polaroid cameras available for sale, not just the mini Instax but they have all 3 camera types; mini, wide, and square. I fell in love right away and often seen walking around the store.
Anthropologie, another brand under Urban Outfitters, also has great collection for their clothing line. The styles are pretty mature but some of them are good enough for youth and young adult. I really love their dresses, they are all so stylish and beautiful, perfect for formal, casual, and semi-formal occasions. The price is pretty expensive but knowing the quality of their products, no wonder we see high numbers on their price tags. Free People is also good but I went inside the store once and felt that the brand wasn't to my liking, I still prefer to shop at Urban Outfitters or Anthropologie. This company is probably the second company that suit my taste after Zara and Armana Exchange.
Brands these days have similar styles to each other but Urban Outfitters manages to keep being different. They are always up to date with any kind of retro and hipster clothing styles and the customers are also happy to have various kinds of clothes in their closet. Aside frmo their style, Urban Outfitters is also known for its successful business model. It was on a flop before but after they widen their target market, it was proven that they went back up and it is now almost side to side with Zara, the best business model brand in fashion when it comes to their sales. People are trying to have business model that would work just like them and they are still trying to find the answer.
About Urban Outfitter
Founded in 1970, Urband Outfitter represents the finest in retro and hipster American clothing style. It was founded by Richard Hayne and Scott Belair. On March 15, 2001, the company reclassified shipping and handling revenue into net sales. On January 23, 2014, Wendy Wurtzburger, who was instrumental in developing leifsdottir, a brand that Anthropologie sold in select units and wholesaled to Bergdorf Goodman, Saks Fifth Avenue, Neiman Marcus and Nordstrom, left Urban Outfitters. In April 2011, the company decided to sell Liefsdottir through its own company
Contact information: